Where is Gran Alacant?
Gran Alacant is a development commonly known in Spain as an urbanisation on the southern Costa Blanca in Spain just to the south of Alicante and to the north of Santa Pola.
Gran Alacant is only 15 km south of Alicante and just 9 km away from Alicante airport of El Altet so its position and location is superb. It is set just slightly inland but the beaches are just a short drive away.
Once at the airport you have a range of different airport transfer options to Gran Alacant including private shuttle buses, taxis or Gran Alacant car hire.
How To Get From Alicante Airport To Santa Pola and Gran Alacant?
Right south of Alicante lies the city of lovely city of Santa Pola, located 15 km south of the airport of Alicante. With its beautiful harbor, large beach areas and ferries running to the Tabarca Island, it has become an important tourist attraction.
Gran Alacant is approximately 9 km south of the airport (towards Santa Pola)
The table below outlines a number of transfer options  for you.
 
 
 
Duration

  Cost (approx.)
Details
Bus
15 min

1.50 EUR (to Gran Alacant)

2.30 EUR (to Santa Pola)

The Baile S.A. bus company runs a bus service from Alicante airport to Santa Pola and Gran Alacant.

Depending on the time of the year, the bus runs up to 7 times daily.

Taxi
10 min

25 EUR (to Gran Alacant)

35 EUR (to Santa Pola)

Most likely your best option if you are landing on weekends or outside the bus service hours. The taxi from Alicante airport will get you to Santa Pola or Gran Alacant in 10 to 20 minutes depending on traffic and where exactly are you heading to.

Taxi fare is around 25 EUR to 35 EUR. No need to book anything in advance, there are plenty of taxi's available at Alicante airport – just outside the arrival area of the terminal building.
Driving Directions
From the airport El Altet (Alicante ), take the turn off onto the N-338 motorway towards Santa Pola . Keep right at the fork, go through the tunnel and follow the signs N-332 / El Altet / Santa Pola . After about 5 km you will pass the village of El Altet . Two km further down on the N-332 , take the Urbanizaciones exit and continue until you reach the roundabout. At the roundabout take the fourth exit ( 3/4) to Avenida de Noruega . After 250 meters turn the first left onto Calle Malta and after 200 m take the first exit right, drive 300 m straight and take the third exit right. You are now on the residential Calle Creta 61. Lime Lounge is at number 20 , after about 200 meters on the right .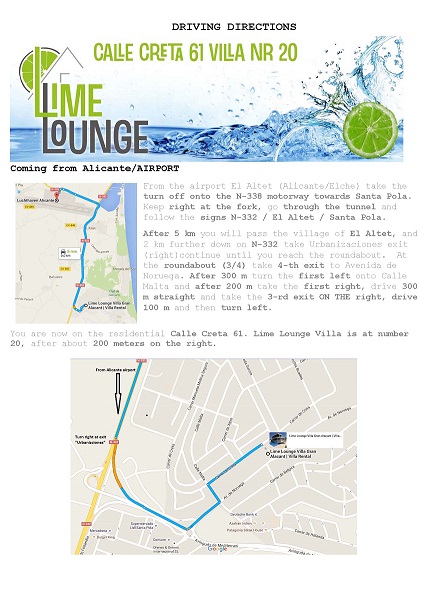 Transport in Gran Alacant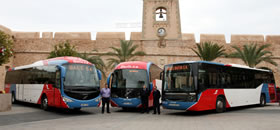 The Local bus is very cheap and frequent and offers services to local beaches, coastal resorts and cities. Baile buses circulate between Santa Pola and Alicante passing through Gran Alacant. The closest bus station is near the Centro Commercial Gran Alacant, 5-10 minutes walk from "Lime Lounge".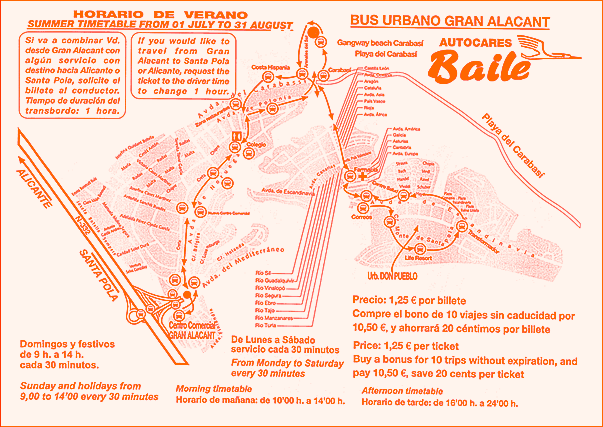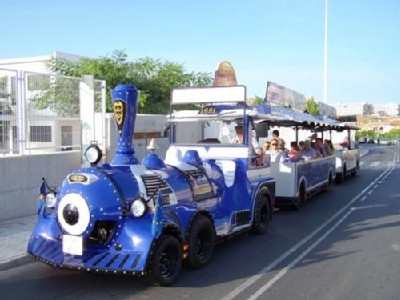 In addition to Gran Alacant´s Bus, Gran Alacant has its very own Tourist Train  to help you get around Gran Alacant.  The stop nearest to our villa is the Centro Commercial.
The tourist train makes 12 stops on a circular route around Gran Alacant giving you the chance to see Gran Alacant´s wonderful scenery, sea breeze and charm in a quiet, relaxing and enjoyable atmosphere.
If you do not fancy hiring a car the tourist train will give you the opportunity to see Gran Alacant´s wonderful scenery, sea breeze and charm plus taking you to the shopping areas, places of interest and the beautiful Carabassi beach.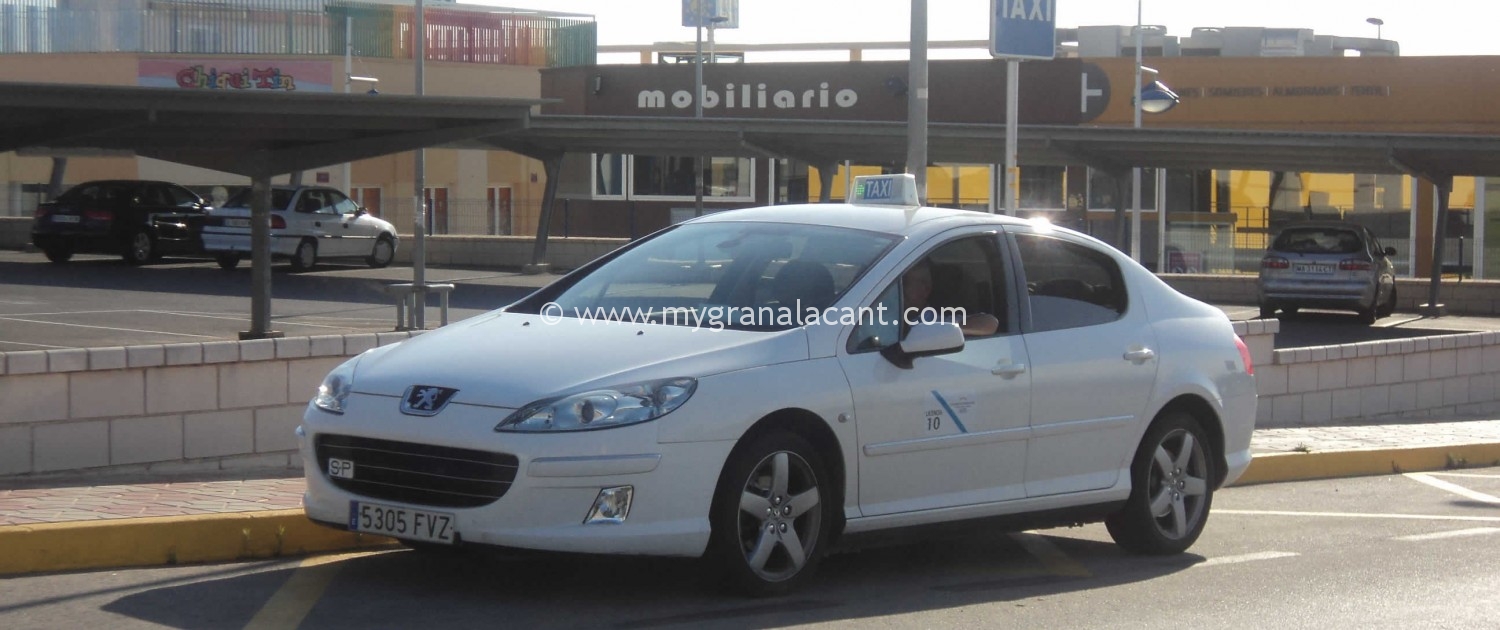 Local Taxi's are affordable and can be found in front of the LIDL supermarket.  Alternatively, call the following number to make a reservation:  (0034) 965 411 111
As much as the villa has plentiful amenities within the local area, to enjoy maximum benefit of your holiday in Costa Blanca we would recommend hiring a car.  Car hire from as little as 14 Euros a days gives you both flexibility and independence. It provides a platform to explore the traditional Spanish inlands and the wonderful coastal region.
Regional /National networks of the Costa Blanca
Alicante provides a starting destination for both the national bus and rail networks, for those wishing to experience trips to places like Barcelona, Valencia or Madrid.
Alicante Train Station is the nearest train station, all major spanish cities Madrid, Seville, Barcelona have various daily connections.  Average travel time from Alicante to Madrid 3 hours 30 minutes currently. Alicante train station is run by the state owned Adif ( Administrador de Infraestructuras Ferroviarias) company.  The main national railroad company in Spain is RENFE.
Important For Travelers arriving at Alicante Airport heading for Alicante Railroad Station  Alicante Airport does NOT have a train station or stop. In order to get to downtown Alicante's train station from the airport, you need to take the Alicante airport bus ( C-6 Line).
Nearest Port
The Port of Alicante is a seaport in Alicante, Spain on the Mediterranean Sea used for commercial and passenger traffic. The port is administered by the Port Authority of Alicante.